Pharmacy Today Online provides pharmacists, their staff and the pharmaceutical industry with the latest up-to-date news on business, politics, clinical pharmacy and medicines information, as well as upcoming conferences and special industry features.
Neva Sinclair, Editor.

News week ending 15 November 2002
DRUG DELIVERY
A Northern Ireland university company has developed an innovative system of drug delivery. more
HORMONES STRESS-FREE
Women seem to be less susceptible than men to stress and serious stress-related illnesses because of the protective properties of the sex hormone, oestrogen, according to the study of nurses carried out by the University of Greenwich, London.
LAB-GROWN CELLS
Research aiming to make laboratory-grown leukaemia cells change form and used to prime a patient's immune system to kill malignant cells has begun in Scotland. more
PINE-BARK ANTIOXIDANT
A pilot study of the clinical effects of Enzogenol has found it is associated with a number of beneficial effects on a range of established cardiovascular risk factors. more
DIABETICS RISK OF HEART DISEASE
The UK Heart Protection Study has demonstrated the benefits of cholesterol lowering drug Lipex, for at-risk groups such as diabetics. more
FUNCTIONAL FOODS
Functional foods is set become a household name, says Dr David Roberts. more

Below are the leading stories in this month's issue of Pharmacy Today. To access entire issues visit our archives.
In the November issue...
MODEL GUESTS
It's a tough job, but somebody has to do it&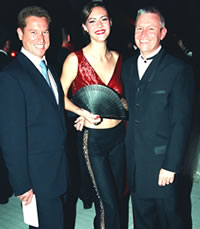 Merck Sharp & Dohme's Propecia product manager Mike Taylor (left) and sales and marketing director Mark Vanderwee were part of the celebrity audience at the Gubb & Mackie charity ball at Government House, Auckland, to launch L'Oreal New Zealand Fashion Week. more
SUPPLIER CONCERN OVER MERGER
Reports of a healthy trading year and a rosy one ahead for Amcal, Guardian and Vantage hasn't allayed the concerns of suppliers. more
JUST FREELOADING
The Pharmacy Guild's gradually declining membership is raising concern but also resentment from some members towards "freeloading" non-members they feel they are subsidising. More than 17%, or 162, of New Zealand's 934 pharmacies don't belong to the guild. more
'NO NEED TO CHANGE'
Pharmac's sole supply regime is serving New Zealand patients and taxpayers well and has not thrown up problems that would spur the agency to make significant changes. more
UNICHEM VOTES IN FAVOUR OF MERGER
Unichem pharmacist shareholders have voted overwhelmingly in favour of merging with the Zuellig-owned Amcal and Guardian groups. more